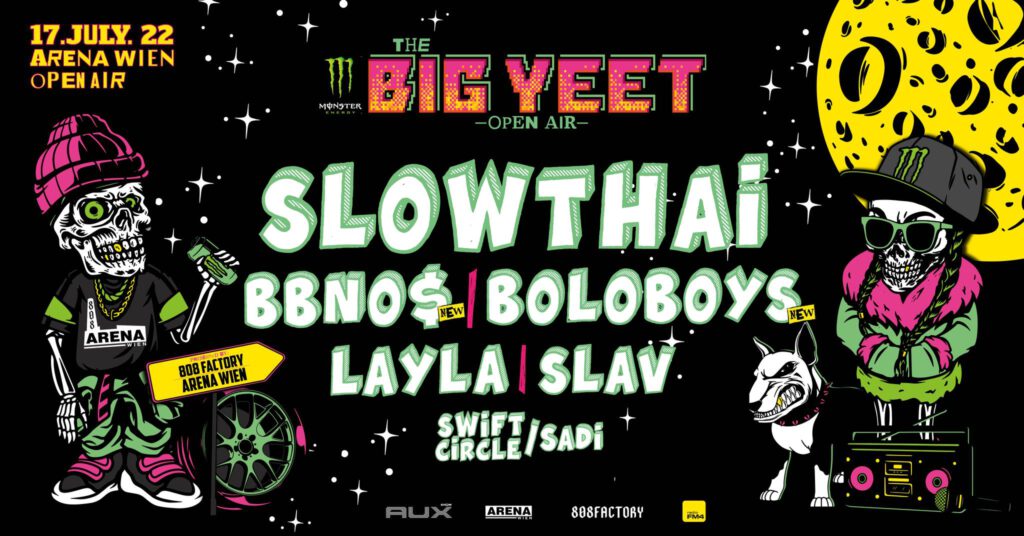 Hallo Leute, wir haben gewartet bis zum letzten Moment, aber leider müssen wir das MONSTER ENERGY THE BIG YEET FESTIVAL aufgrund der unsicheren Situation was Veranstaltungen im Herbst angeht auf 17.7.2022 verschieben.
Massiv ansteigende Infektionszahlen und die damit verbundenen Verschärfung der Maßnahmen lassen uns leider keine andere Wahl.Bereits gekaufte Karten behalten natürlich ihre Gültigkeit, können bei Bedarf aber auch bis 30.12.2021 bei der jeweilgen Vorverkaufsstelle retourniert werden. Selbstverständlich bekommt ihr bei uns euer Geld zurück und keine Gutscheine.
Safety first! Dafür feiern wir das Leben nächstes Jahr am MONSTER ENERGY THE BIG YEET FESTIVAL umso härter – mit noch fetterem Line-Up:
slowthai
bbno$
Boloboys
Layla
SLAV
SWIFT CIRCLE / SADI
Danke für euer Verständnis, bleibt gesund – Monster Energy, 808 Factory, Arena Wien
MONSTER ENERGY – THE BIG YEET OPEN AIR presented by 808FACTORY & ARENA WIEN
MONSTER ENERGY – THE BIG YEET Open Air presented by 808FACTORY, FM4 & ARENA WIEN is a one-day Hip Hop Fesival with the aim to integrate the "THE BIG YEET" brand on different GenZ platforms & programs over the next years to become a fix part of the underground culture. The main focus is to give different sub-cultures a major spot – no matter what kind of genre, but without loosing the spirit of the deticated scenes!

More Info:
www.thebigyeet.at
Vorverkauf/Presale EARLY BIRD € 45,- (+ € 3,50,- Gebühren)
Vorverkauf/Presale PHASE 1 € 50,- (+ € 3,50,- Gebühren)
Vorverkauf/Presale PHASE 2 € 60,- (+ € 4,10,- Gebühren)
Abendkasse/Doors tba.Veranstaltungsort:
Arena Wien – Open Air
Baumgasse 80
1030 Wien